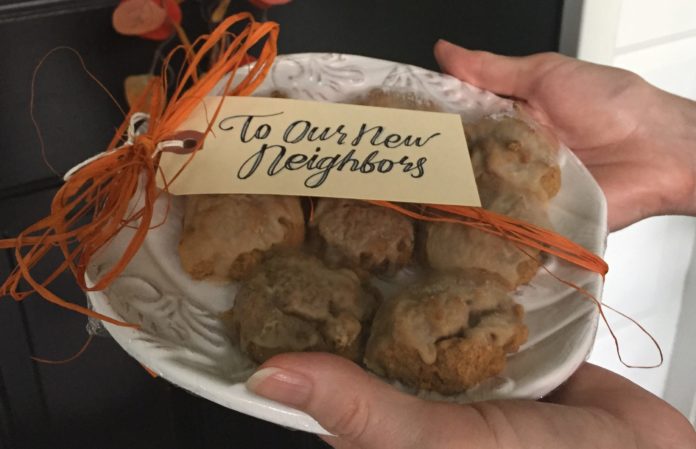 In a well-worn notebook belonging to military spouse Terri Barnes, a handwritten recipe for pumpkin cookies is marked with the signs of many batches baked in many different kitchens. Some of the marks look like splashes from the mixing bowl. Others are pen and pencil notations about the right time and temperature for ovens in various locations. Ramstein 180º for 13-15 min; San Pedro 375º for 13 min.
"My mom got this recipe from a military spouse friend of hers when I was a teenager. When I got married, she gave me the notebook full of recipes she wrote down for me, including the pumpkin cookies. Since then, I have baked these cookies everywhere we've been," Terri says.
For Terri, her Air Force husband, Mark, and their three children, "everywhere" includes four assignments overseas and nine more in the U.S. In each new neighborhood, sharing cookies provided a way for the family to reach out and meet their neighbors.
Plenty to share
"I bake a lot of cookies when I get out this recipe," Terri says. "Having so many cookies to share gives me an excuse to go out and introduce myself. It's easier to knock on the door of a neighbor I haven't met yet when I have a plate of cookies to offer. Sometimes, it's hard to take that step, but it's been worth it."
Taking food to welcome neighbors is nothing new, of course. Terri says it makes sense to stick with what works. She offers these tips for making the most of the time-honored technique:
Be the one to step out and meet your neighbors, even if yours is the new family.

Any treats—cookies, pies, cakes, or fruit trays—are usually welcome. If you don't have time to bake from scratch, buy frozen dough or a mix to bake.

Include a small card with ingredients and mention if you've accommodated any special dietary cautions (e.g., gluten free, dairy free, vegan).

Include your address and phone number. If your house is visible from the neighbors', point out which house is yours, or mention identifiable characteristics (e.g., green shutters, flag pole) so your neighbors can connect your face to your home.

Remember, it's the connection that counts.
Not all pumpkin cookie deliveries have resulted in friendship for Terri or her family, but many have created a connection.
"It's like planting a seed," she says. "It may grow and bear fruit. It may not, but it never will if the seed is never planted."
Sharing the cookies often results in a request for the recipe, which Terri is happy to provide. The Barnes family has been a lot of places, and the recipe has traveled even more extensively, carried by military friends who shared cookies and the recipe far and wide. Terri often hears from people who are baking the cookies all over.
'World famous' cookies
"I've seen Facebook and Instagram posts from friends of friends, people making pumpkin cookies for their neighbors truly all over the world. Often, they are people who don't know me, but they got the recipe from someone we were stationed with in Arizona, or Alabama. Now, they're making the cookies in Korea or Slovenia. My best friend likes to say that my pumpkin cookies have become world famous."
As a columnist for Stars and Stripes and the author of Spouse Calls: Messages From a Military Life, Terri shared her cookie-connecting experiences and recipe with an even wider audience. She began that particular column with "When you give a neighbor a plate of cookies," as nod to Laura Numeroff's When you Give a Mouse a Cookie.
"I sent a copy of the column to Laura, who sent a sweet note and allowed me to include it in my book," says Terri.
Full circle
Like the popular children's book that begins and ends with the gift of a cookie, the story of Terri's recipe also creates a circle, as the recipe travels from friend to friend. Terri's favorite cookie share happened when her family was stationed in Germany, and their oldest son, Will, was in his first year of college at Baylor University in Waco, Texas.
"Pumpkin cookies are very moist, so they don't mail very well, especially across the ocean. I hated that I couldn't send some to Will for his birthday, but then I got a message from my friend's daughter, Dana, who was also at Baylor. She said, 'I'm baking pumpkin cookies for Will for his birthday!'
"It was a very happy mom moment to see that gift of friendship deliver homemade cookies to him when I couldn't," says Terri.
Pumpkin cookie production in the Barnes household is usually ten or twelve dozen cookies, says Terri. Most of those are shared with friends and neighbors.
Any kind of cookies or homemade treat can become a connection to neighbors old and new.
Use a family favorite or try Terri's "world famous" recipe. Either way, the most important ingredient is the sharing.
Pumpkin Cookies
Makes about three dozen cookies
1 C. shortening
1 C. sugar
1 C. canned pumpkin
1 egg
1 tsp vanilla
2 C. flour
1 tsp. baking soda
1 tsp. baking powder
2 tsp. cinnamon
1/2 tsp. salt
Cream shortening and sugar, add egg and pumpkin. Add dry ingredients and vanilla. Drop by tablespoonfuls on ungreased baking sheet. Bake 12-14 minutes at 350 degrees, until cookie springs back when touched lightly in the middle. Let cool before frosting.
Caramel Frosting
Enough for about three dozen cookies.
3 T. butter
4 T. milk
1/2 C. light brown sugar, packed
1 C. powdered sugar
1 tsp. vanilla
Melt butter in sauce pan. Add milk and brown sugar. Stir until combined. Boil 2 minutes. Pour into mixing bowl and let it cool but not get completely cold. Add powdered sugar and vanilla. Beat until smooth.
Vegetarian: For the frosting, substitute margarine or coconut oil for the butter; use almond or cashew milk rather than cow's milk.
Vegan: Use the vegetarian options above, and for the cookies, use 1 mashed banana in place of the egg.
Gluten-free: For the cookies, use an all-purpose 1:1 gluten-free flour or your favorite gluten-free flour blend. For the frosting, use powdered sugar that is gluten-free and processed in a wheat-free environment.
All substitutions are 1:1, unless otherwise indicated.